Let's go cycling with family and friends on a bicycle rental of Wakayama Road Bike / MTB!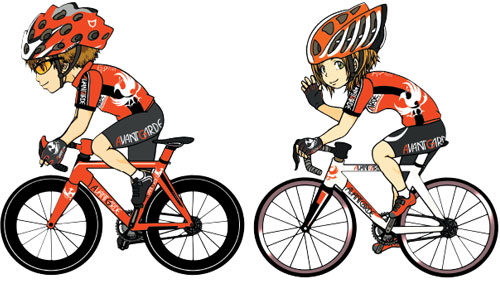 I would like to start a road bike or MTB, but I don't know if I got on it or it will last long, so I want to try it for the time being! If you want to go with your family and friends to go cycling, but don't have a sports bicycle, AVANT GARDE's rental cycle is recommended!
Bicycle rental procedure
Please make a reservation by calling AVANT GARDE. (You can make a reservation from one month in advance)
Please come to the store with your ID on the day of rental.
After the application process, the staff will adjust the bicycle according to the customer and start renting
Please return to the store by 19:00 on the return date
[Reserved phone number]073-460-1391 [Reservation] Reservations can be made from one month before to the previous day.We will ask you the height of the person you rent at the time of booking and prepare a bicycle of the right size. If you have the size you want, please let us know when you make your reservation. Please read the following terms and conditions before making a reservation and make a reservation only if you agree. [Cancellation] In case of cancellation, please contact us the day before. [Return] Please specify the return location when applying. If you are late for the return date, please contact each store. If the scheduled return date is our regular holiday or a closed day, it will be returned the next business day.
Rental cycle charge table
                                             
Vehicle model
Day trip
1 night 2 days
Additional charge / day
                                             
Cross bike
¥3,000
¥4,800
¥ 2,400/day
                                                                  
Aluminum bike
¥4,200
¥7,200
¥3,600/day
                                                                  
Carbon bike / E bike
¥6,000
¥9,000
¥4,500/day
                                                                  
Helmet
¥500/Pieces
                                                                  
Safety Guarantee Plan
¥2,000/Times
                                         
Depending on the rental status, you may not be able to lend your desired model. The maximum loan period is 30 days.
The above price is tax-excluded price
Please check with the store for the warranty details of the guarantee plan.
Rental cycle relief plan
Compensation of your body in the event of an accident, compensation to the other party, bicycle body compensation all-in security compensation plan
Compensation details below are all community2,000 yen once(excluding tax)
Regardless of the number of rental days, this is the amount of a rental bicycle contract.
Rental bicycle vehicle insurance

| Damage | Disclaimer |
| --- | --- |
| Scratches and damage | Billing¥0 |
| Theft / total loss | Billing¥10,000 |
| Business compensation(NOC) | ¥20,000¥0 |
Death / injury insurance
Insurance amount
Your identity
Death and aftereffects
¥3,000,000
Hospitalization allowance (daily amount)
¥3,000
Surgical insurance money
When hospitalized
¥3,0000
Outpatient
¥15,000
Outpatient insurance money (daily amount)
¥2,000
Personal liability insurance

| | |
| --- | --- |
| Personal liability | ¥100,000,000 |
When the relief plan is not applied
If you do not report the accident or theft to the police (if you do not have an accident proof)
Accident caused by someone riding on a person other than the person who requested it on departure
Accidents caused by drunk driving
Accidents when the rental period is overdue without notice
When there are violations of other matters stipulated in the rental agreement
Rental cycle usage
These Terms shall apply to customers who use the avant-garde ("Store") rental cycle. Items that are not stipulated in this agreement shall be in accordance with laws and general customs. In addition, these terms are subject to change without notice.

Article 1 (Purpose)
Rent-a-cycle aims to contribute to the spread of sports bicycle culture by using this store and communicating with customers through the sports cycle.

Article 2 (Eligibility)
Bicycle rental can be used only by customers who meet all of the following items.
(1) Those who agree with the purpose of the store and can follow these rules and traffic rules.
(2) Those who have a phone number that can be contacted from the store and each operating company.
(3) Those who carry an ID card on the loan date and can present it to store staff.
(4) Those who are in good health to withstand the use of the sports cycle.
(5) Those who are not drunk.
(6) If you are under 18 years of age, you will be required to present your guardian's signature and your guardian's ID. The guardian shall bear the responsibility based on this agreement jointly with the person.
(10) Those who have not been canceled in the past without paying rental bicycle fees or contacting them.
(11) Any other person who determines that the store is suitable for use.

Article 3 (Reservation)
1. Customers can make advance reservations by calling the store one day before the desired loan date. Rental bicycles are installed at the Wakayama store, so it may be possible even at the Wakayama store on the day.
2. When making a reservation, please inform the user's name and age, telephone number, height or desired size, desired date and time of loan, and loan period.
3. If you wish to return at a store different from the rental store, please inform us when making the reservation.
4. Depending on the lending status, you may not be able to lend your desired model.
5. If you are likely to be late for the reservation time on the day of rental, please call the store before the reservation time.

Article 4 (Cancellation of reservation)
1. The customer can cancel the reservation by calling the store within business hours the day before the desired loan date.
2. If you cancel without prior notice, you may not be able to rent a bicycle from the next time.

Article 5 (Application Procedure)
The application procedure is as follows.
(1) Check the loan period and parts with the store staff.
(3) Fill out the designated items on the rental cycle application form.
(4) Give the rental bicycle application form and ID card to the store staff. In addition, store staff will refrain from numbers after confirming the ID.
(5) Check out the rental fee. The rental fee shall be as specified separately, and in principle shall be settled in advance.
(6) The store staff will explain how to rent rental bicycles and parts (hereinafter referred to as "rental products").
(7) The store staff will adjust the rental cycle (adjust the saddle height) according to the customer.
(8) The customer and the store staff together confirm that the loaned product is free from poor maintenance.
(9) The store staff will give you the rental products.

Article 6 (Return of rental products)
1. The customer must return the rental product to the store where the return is scheduled by the scheduled return time.
2. Return the loaned product in the same state as when it was rented. If there is any abnormality or malfunction, please inform the store staff immediately.
3. Tell the staff if you fall over during the rental period or if your bicycle is damaged.

Article 7 (Construction of loan agreement)
1. A loan agreement for a loaned product is established when the store receives the loan fee and delivers the loaned product to the customer.
2. If the rental products reserved by the customer cannot be rented due to accident theft or other reasons not attributable to the store and each operating company, the store shall be able to cancel the customer's consent to the reservation. The

Article 8 (Invalid use application)
If the customer falls into one of the following items during the lending period, the store and each operating company may invalidate the application from the customer without any notice and immediately request the return of the lending product: It shall be possible. In this case, the rental fee received by the store in Article 5 will not be returned.
(1) When an act that violates these Terms of Use is performed.
(2) When an accident occurs due to reasons attributable to the customer.
(3) When it no longer falls under Article 2.

Article 9 (Excess loan period)
1. If you are about to return the scheduled return time, please contact the store immediately.
2. If you return it after exceeding the loan period, the customer will pay an extra fee specified separately.
3. If damage is caused to a third party, such as the next applicant cannot use due to delay in return, the damage shall be compensated.
4. If there is no contact from the customer after the scheduled return time has passed and there is no return, you may be confirmed by phone, mail or e-mail. Even if you do not contact us, additional charges will be incurred according to these terms.

Article 10 (Failure / Damage)
1. If a rental product breaks down or is damaged, immediately stop driving and contact the store.
2. If the bicycle punctures and you do not know how to repair it, please contact the store.
3. For reasons that should be attributed to the customer, the customer may be charged for the amount of damage if the loaned product breaks down or is damaged or damaged.

Article 11 (Theft / Lost)
1. In case of theft or loss, contact the store immediately.
2. If the rental product is stolen or lost due to reasons attributable to the customer, the customer may be charged for the amount of damage.

Article 12 (Accident)
1. If you have an accident during the loan period, please contact the store immediately.
2. If necessary, please take the measures stipulated by law such as contacting the police.
3. In case of damage to the store or a third party due to reasons attributable to the customer, the customer shall be compensated.
4. If you need to talk about the accident, it is your responsibility. The store and each operating company are not responsible for any accidents.
5. The store and the operating company will not be held responsible for any damage caused to the customer or third party due to a bicycle failure.
6. If the customer is injured due to an accident, the store and the operating company will not be held responsible. Please purchase your own bicycle insurance.

Article 15 (Prohibited acts)
1. During the loan period, the customer must not use the loaned product to anyone other than the user who completed the rental cycle application.
2. Customers must not use rental products for cycle races on closed public roads and circuits. (Cycling events on general roads that are not closed are allowed)
2. During the loan period, the customer must not perform the following prohibited acts.
(1) Reckless driving, drunk driving, and other acts that violate traffic rules.
(2) Use in hazardous locations, inappropriate places or methods.
(3) Acts that may impede pedestrian traffic.
(4) Modifications and changes to the structure and equipment of rental products.
(5) Travel without wearing a helmet.
(6) Other acts that violate laws and regulations.

Article 16 (End due to force majeure reasons)
If the loaned product becomes unusable due to a force majeure event that cannot be attributed to any responsibility of the natural disaster or any other store, operating company, or customer during the loan period, the loan agreement will be terminated. In this case, the customer shall notify the store promptly and consent in advance that the rental fee will not be refunded.

Article 17 (Noriyoshi)
If there is any doubt about the contents of these Terms, or if any matters not described in these Terms occur, the customer, store, and operating company shall negotiate in good faith and try to resolve them.

Article 18 (Agreed Jurisdiction Court)
If a dispute arises regarding the rights and obligations under these Terms, we agree that the operating court headquarters or the district court having jurisdiction over the store will be the jurisdiction court.